Meet and Greet Mondays continue, as we provide you with quick snapshots of the work we do. We've spent the last month covering our services that specialize in site development. In case you missed it the first time around, here are the links:
Today we launch an overview of the services provided by one of our subsidiary companies, Stake Center Locating.
Service: Underground Utility Locating
Provided by: Stake Center Locating
Description: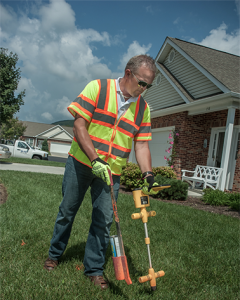 Most people have no idea of the number of buried lines beneath them. Cities and states are updating existing buried infrastructure and developing new areas daily. This means rapid growth and high demand. Telecommunication, electricity, cable, gas, fiber optics, they're all there. We're ready for it. Our expertise is in knowing the different detection and location methods used to find these lines.
Benefits: Safe digging. We accurately report where it's safe to dig in order to guard underground utilities from damage and protect excavation teams from hidden dangers.
Bragging Rights: We perform more than 400,000 locates each month in more than 38 states. With the highest level of accuracy in utility locating, we're shattering industry standards for damage-to-locate ratios.
Check in next Monday when we take a deeper dive into those damage-to-locate ratios and what they really mean.