S&N Locating Services and Stake Center offer the highest level of accuracy in utility locating. How'd we get so good? Much of the credit goes to the extensive training we put our crews through. No one ever goes into the field untrained and unsupervised.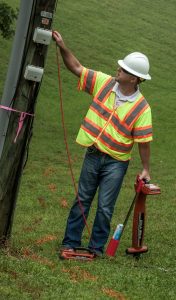 Then, there's the fact that we average more than 400,000 completed locate requests each month. That's a lot of practice.
Combine our training with requests completed and you've got a highly experienced locate crew who knows exactly what they're doing.
Service: Training Programs
Provided by: S&N Locating Services and Stake Center
Description: We provide quality training for all our locators, including print reading, ticket management, safety, National Utility Locating Contractors Association (NULCA) guidelines, human resources and Operator Qualifications (OQ) training for gas and pipeline facilities.
Benefits: Equipped with the latest tools and technology, our locating teams make safety the top priority (eliminating damages, protecting the public and customers' facilities) while consistently meeting deadlines.
That 10,000 hour rule? Pffft. We left that in the dust. Maybe that's why we're so good at what we do.